Bespoke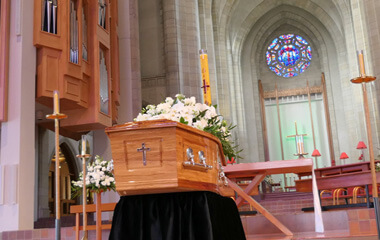 Just as every life is unique every farewell can be too. We offer a wide range of personalized touches.
Planning a funeral in Keighley
Fenix Funeral Directors in Keighley are not your average funeral home. Our approach is to provide caring support for families who have recently lost someone special. Our prices are fixed and fully transparent, and that makes the funeral very easy to plan. We are also flexible and can arrange any type of funeral, from simple and quiet to bespoke and extravagant. We give you a personalised quote with the cost of the entire funeral. All our quotations are obligation-free. Once we've agreed on your requirements, you can leave the rest to us. We'll take care of every element surrounding the funeral, including transport, viewing, interment and officiants.
It is also possible to book a meeting close to you. You can easily select a meeting office by clicking on the markers on the map.
Personal service
Online, by phone or in person, we support you as much as you need.
Fixed price
Always receive a fixed price upfront.
One-Stop Source
Legal support, practical help, financial questions. We can help you with anything you require.
Have a unique funeral service in Keighley
Sometimes our loved ones make their wishes abundantly clear before their passing. We respect these wishes immensely and will make every effort to ensure that their funeral reflects that. Our professional team at Fenix Funeral Directors will discuss your funeral plans, and we will break down all the costs. And if you accept them, we will coordinate the final funeral arrangements.
Fenix Funeral Directors believe that all funerals should be personal and memorable. We know that organising a particular hymn, meaningful floral bouquet, or even a special officiant can mean a great deal to the family and honour the life your loved one lived. Let us take care of the unique, personal touches for you during these difficult times.
When you contact us at Fenix Funeral in Keighley, you never have to worry about being treated like a "customer". For us, you are a fellow human being who needs support and help in a difficult time. You always get a personal adviser who is by your side through out the process.
Our reviews
See what our customers have to say
I was very satisfied with Fenix Funerals. Laura and Nick helped me through in this very difficult and emotional situation with their kindness and patience.
Thank you for everything.
I hire Fenix funerals for my father in law's cremation. I had no previous experience with the death of a loved one and I did not know what is done in such cases. I met with great help and empathy at that moment. Their organization and communication are at an exceptional level. I am grateful for their help and advice and I would recommend them to anyone in this situation. Thank you so much!
Very professional customer service, highly recommended. No hidden fees.
A great service from Fenix with terrific communication every step of the way. Everything was handled with care, attention, and sensitivity. Our coordinator Pip certainly understood that funerals are not the sort of thing that one arranges frequently and was able to guide us through the whole process magnificently. We were very impressed from start to finish.
Choose a location near you